Welcome to Lowanna College
Lowanna has a long history and began as an amalgamation of three schools, Moe High School, Newborough High School, and Yallourn Technical School.
Today, Lowanna is a vibrant and well-resourced Victorian Government 7-12 Secondary College with a student population of around one thousand. Our College is situated in a large and attractive setting adjacent to bushland and the Moe-Yallourn Rail Trail in the township of Newborough. It has three mini schools – Junior School (years 7 and 8), Middle School (years 9 and 10) and Senior School (years 11 and 12), each responsible for 300-400 students.
Our major focus over the past two years has been threefold:
Building practice excellence for our teachers based on teamwork,
Building an orderly learning environment and
Building a belief that every student is capable of achieving excellence in their learning.
Our ultimate goal is to develop Lowanna College as the best school in the area and to provide all students with the opportunity to fulfill their dreams.
It is our belief that the development of the whole child is paramount and we have a welfare system that has been recognised and celebrated widely for assisting disengaged students. We genuinely care about every student and our student management processes, welfare support and behavior norms, based on the core value of mutual respect, ensure that all students are supported.
Your child can expect a wide and varied curriculum, access to a vast array of extra–curricular activities, a caring environment and a belief that they will achieve excellence in all of their endeavors.
I take great pleasure in welcoming you to Lowanna College and know that your child will receive an excellent education.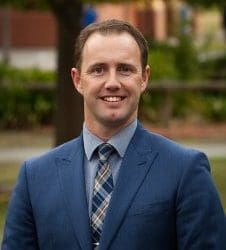 Adam Hogan
College Principal